San Juan Island, located on the western edge of the San Juan Islands of Washington State, is the county seat of San Juan County and boasts the largest population of all the islands.  San Juan Island has a rich local history.  The state parks of American Camp and English Camp tell the stories of the little known Pig War which helped decide the national borders of the United States and Canada in the Pacific Northwest.  Local families still raise cattle on many of the island's farmsteads after more than one hundred years of agricultural history.
The Town of Friday Harbor, which is located on the east side of San Juan Island, is the largest population center in the San Juan Islands and serves as the County Seat as well as a bustling center for business and tourism. The iconic Whale Museum is the first museum devoted to a wildlife species.  In the latter weeks of August the Friday Harbor Fair Grounds host the San Juan County fair, a mixture of classic carnival rides and game stands with  local arts, crafts, and animal shows.  Friday Harbor sprawls down to the waterfront where the Washington State Ferry dock provides the automobile access from the mainland.
Come visit the San Juan Islands of Washington State; there is so much to see and enjoy in one of the most beautiful locations in the Pacific Northwest.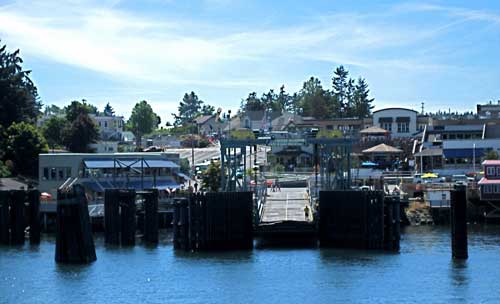 San Juan Islands Current Events: For the latest news from the San Juan Islands, updated and easy to search visit the local media for an onsite look at what is happening in San Juan County.
Population: 
Area: 
Highest elevation: 
Highest point: