Orcas Island, the "Gem of the San Juans", is the largest of the San Juan Islands and has the second-largest population behind San Juan Island itself. Unlike the pastureland and broad beaches of San Juan, Orcas Island is filled with wooded hills, old orchards, and rustic country inns. Much of Orcas Island is open to the public through various parks and local preserves; the largest of which is Moran State Park (named for Robert Moran, the donor of the over 5,000 acres comprising the park) which includes numerous lakeside camping options as well as boating, fishing, hiking, and biking opportunities. Moran is one of the most popular tourist destinations in the county and is also frequently used by locals to enjoy the island's wild beauty or challenge themselves on the more difficult trails.
Mount Constitution, the highest point in the San Juan Islands, lies at the center of Moran State Park and is capped with a stone observation tower providing a panoramic view of the San Juans and the surrounding coastline and mountain ranges. It is considered one of the best maritime views in the United States and is the penultimate destination for many of the trails that weave across the mountaintop. Obstruction Pass State Park on Orcas Island's southeast side provides one of the largest public access beaches on Orcas and includes several rustic campsites allowing visitors to enjoy its serene waterfront at leisure.
While you're here stay at one of the historic lodging establishments like the Orcas Hotel, Outlook Inn, or KingFish Inn. Resorts like Rosario Resort, West Beach Resort, and Doe Bay Resort offer essential services and dining right on location, and many of these resorts are just a short trip away from popular hiking trails and historic sites. Or you can book one of the island's many vacation rentals through your preferred booking service. Several of these locations have their own docks and marinas, so if you're boating up then be sure to reserve a tie-up slip.
In addition to resort docks, Orcas Island has several marinas catering to local liveaboards as well as guest moorage for transient visitors. Most notably, Orcas Village, West Sound, and Deer Harbor all have marinas as well as a day-use public dock in Eastsound, the primary population center of Orcas Island, which hosts the majority of Orcas Island's businesses and shopping options. Easy access from these docks enables day trips for shopping and eating, and quick access to accommodations for a sea-based vacation tour of Orcas and the surrounding waters.
For entertainment and recreation look no further than our own island amenities. Orcas Center is located just outside Eastsound and regularly features art exhibits and stage plays. The Island's history is captured in the Orcas Island Historical Museum. Check with the Chamber of Commerce, and the local billboards at the Post Office, for upcoming shows and community events. Most accommodations provide internet for their clients, and free Wi-Fi is available at the Orcas Online office, Enzo's Cafe, and the Eastsound Library.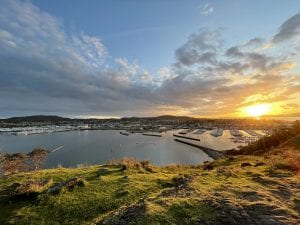 Many fine dining options are available in Eastsound and across the island featuring a variety of eating options including Traditional American, Tavern/Pub, Seafood, Mexican and more. Some of the most popular establishments are located at Deer Harbor Inn, Ship Bay Inn, and Rosario Resort so that fine dining can literally be a walk away from your accommodations. Changes to dining practices during the pandemic prompted many establishments to offer take-out meals; and if you so desire you can eat a well-crafted meal in the privacy of your boat or hotel room.
There isn't a more relaxing place to come for adventure, beauty, and peace; come aboard the Washington State Ferries, with regular daily sailing from Anacortes, and enjoy the beauty of Orcas Island in the San Juan Islands of Washington State.
Population: 5,387 (2010)
Area: 57.3 sq mi (148 km2)
Highest elevation: 2,409 ft
Highest point: Mount Constitution