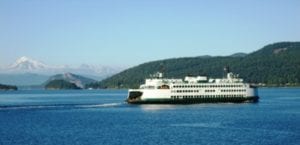 Getting Here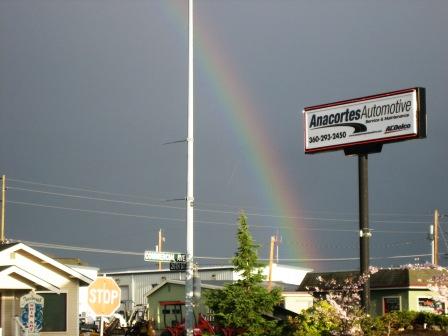 Most travelers to the San Juans arrive by Washington State Ferries which originate in Anacortes. San Juan Island is also accessible by ferry from Sidney, near Victoria, British Columbia. Be advised that ferries are often crowded and it is best to arrive early at the terminal in order not to be overloaded to a later sailing. Reservations are highly recommended, especially in the summer season. Be sure to arrive at least 30 minutes before the scheduled departure time to avoid the WSF reservation no-show fee.
It is also possible to park your car at the Anacortes terminal and board the ferry on foot. The problem is that except for Friday Harbor, where the ferry dock is right in town, there isn't much you can see and do on arrival without transportation. Auto, moped, and bicycle rentals are available in some cases, and some of the major resorts will pick you up by advance arrangement.
Air transportation is available from various mainland points, or by charter, to each of the larger islands; but again you will need to arrange for transport on arrival.
If you are a boater you can of course cruise the archipelago at your pleasure and find moorage at any number of ports and marinas.
Although the islands now have a great variety of facilities for tourists including inns, resorts, motel-like lodges, and bed-and-breakfast establishments, as well as overnight parks and campgrounds, all of these places are in demand much of the year. It is never wise to come to the San Juans without a firm reservation.
SAILING SCHEDULE INFORMATION
Ferry Schedule & Fares:

Current Ferry Schedule for the Washinton State Ferry service to the San Juan Islands.
Purchase Ferry Tickets  Use your credit card to purchase your Washington State Ferry Tickets online.
Washington State Ferries offers a free travel alert subscription service via email or text message. Click on the title to see current alerts and/or sign up.
Want to know if your boat is running on time? Click on the Ferry Vessel Watch above and check in, real time on where your boat is right now!
Is there room on the next boat? Click on the title to get the details on the applicable ferry terminal, sailing or just to look at the camera images
Frequently Asked Questions
about traveling to the San Juan Islands on a Washington State Ferry
Do I need to take a ferry to reach the San Juan Islands?
If the ferry terminal in Anacortes is the gateway to the San Juan Islands then the Washington State Ferries are the highway that leads you through. Ferry boats provide car and passenger transport to the four major islands of San Juan, Orcas, Lopez, and
Shaw.
Are the ferries a hassle?
Ferry travel gives the San Juan Islands a different pace and is a great place to unwind after long trips on the mainland. The journey through the islands, usually taking between thirty and forty minutes, shows off the natural beauty of the islands and provides many opportunities to observe local wildlife.
Is there a schedule for sailings?
The Ferry sailing schedules change seasonally, with new schedule brochures becoming available on the ferries and at the various terminals between 10 and 14 days before the change. Current schedules can also be viewed online.
I don't need to bring a car, can I walk on?
All ferries take walk-on passengers with every sailing and reservations are not required for walk-ons. Bicyclists are also permitted and load when instructed via the vehicle loading ramps. All vessels include spacious passenger cabins with restrooms and vending machines.
What are the costs for ferry travel?
Travel fares change seasonally and vary among the different islands. All tickets purchased at Anacortes are Round Trip and fares are calculated based on the size of the vehicle and number of passengers. Detailed information on current ferry fares for vehicles and walk-on passengers
can be found here.
It sounds popular, can I reserve a space?
As of January 5, 2015 Washington State Ferries incorporated a Reservation system for car transport from Anacortes to the San Juan Islands and from Orcas and San Juan Island to Anacortes. Reservations for each sailing can be made up to two months in advance with a certain percentage of the car space being made available in tiers. Reservations can be purchased online at the WSDOT website or by phone at 1-888-808-7977 for Stateside callers and 206-464-6400 for callers from Out of State.
Reservation customers are given priority in loading and they can change or cancel their reservation until 5 pm of the day before the reservation's sailing. Any changes after that time incur a $10 fee. It is requested that customers arrive between thirty
and ninety minutes ahead of sailing time.
WASHINGTON STATE FERRY TERMINALS:
Serving the San Juan Islands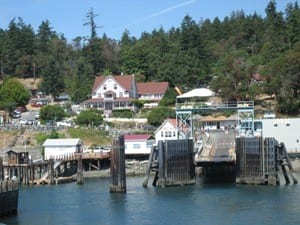 ---
Anacortes
Visiting the San Juan Islands?  Click here for detailed information about the Anacortes Ferry terminal.
San Juan Island
San Juan Island Ferry Terminal information.  United States Customs at the terminal for international arrivals from British Columbia.  
Orcas Island
The Washington State ferry terminal at the Orcas Island landing.
Lopez Island
Well known among the locals for the Lopez Wave, click here for detailed information about the Washington State Ferry Terminal on Lopez Island, compliments of Washington State.

Shaw Island
The Washington State ferry terminal serving Shaw Island.
---